With technology being more prevalent and more intuitive than ever, it makes sense that smartphones would be leading us into the future. With things like contactless payments, and now phone payments, spending money has never been easier. Phone providers like Apple and Android are of course on top of the game, with their Pay services, that let you pay by using just your phone. So what do you need to know about Apple Pay and Android Pay?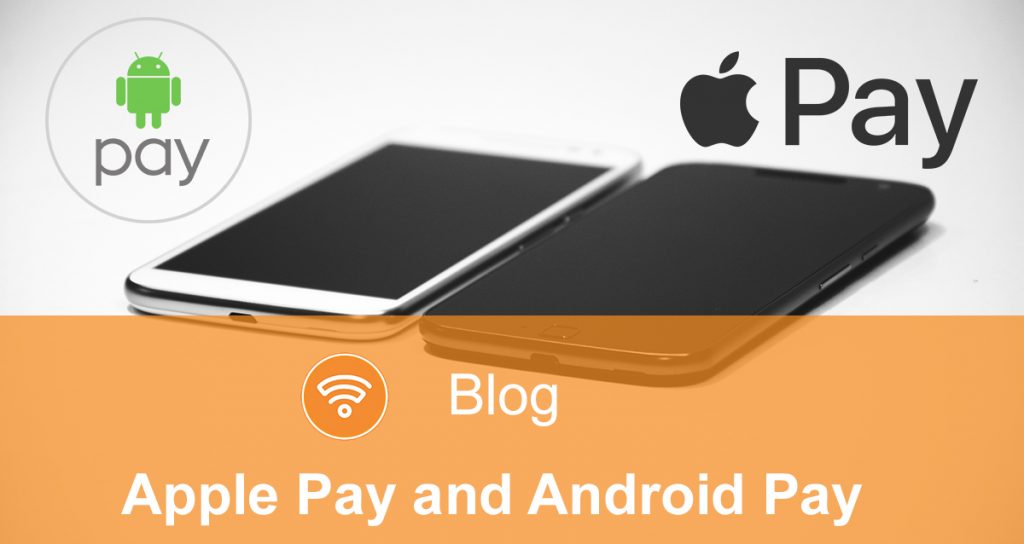 What is Apple Pay?
Apple Pay is a way to pay for products and services, without having to touch your card. You just have to have you phone near a card reader, finger on the print scanner and your product is paid for.
Easily pay with your debit cards and credit cards with just a touch. And because your card details are never shared by Apple when you use Apple Pay, making payments with your iPhone, Apple Watch, iPad, and Mac is the safer, more private way to pay.
When you make a purchase, Apple Pay uses a device-specific number and unique transaction code. So your card number is never stored on your device or our servers, and when you pay, your card numbers are never shared by Apple with merchants.
To get Apple Pay you need an iPhone 6 or above with the latest version of iOS and be signed in with an Apple ID.
Unlike paying with a physical card, using Apple Pay in stores happens in seconds with your iPhone and Apple Watch. Just hold your iPhone near the reader with your finger on Touch ID or double-click the side button on your Apple Watch, then hold it near the reader.
Or, if you have an Apple Watch it's even easier.
In Ireland, the banks/financial institutions that let you utilise Apple Pay are Ulster Bank, KBC and Boon by Wirecard.
What is Android Pay?
Android Pay is the simple and secure way to use your Android phone to pay in stores and within apps. Choose your device, add your credit or debit cards, and you're all set.
Here's what you need to know about using Android Pay
1. Simplicity: 
Simplified tap and pay experience – unlock your phone, tap and pay. Android phones and tablets with Android 4.4+ and NFC will work with Android Pay. Users just need to install the app and add supported cards.
2. Security:
Security has always been the center of our approach with mobile payments, and we have taken that one step further with the introduction of industry standard tokenization.
3. Choice:
We've built Android Pay as an open platform for developers, so any Android developer in Ireland can add Android Pay to its mobile commerce apps.
No need to juggle between your phone and wallet at checkout. With Android Pay, you can keep doing what you're doing on your phone. Just make sure to wake up your phone and hold it to the terminal — you don't even need to open the app.
Just add your credit, debit, loyalty, and gift cards to Android Pay, and start shopping at the shops, in apps, and online.
Android pay is incredibly secure. Android Pay doesn't send your actual credit or debit card number with your payment. Instead it uses a virtual account number to represent your account info – so your card details stay safe and secure.
The financial providers you can use with Android Pay are Visa, Mastercard, KBC and AIB.
55% of Irish people use Android enabled phones, so that would explain why Android is more largely adopted. iOS devices make up 41% of the Irish phone user base. (As of August 2015, according to this article).
---
Why are we bringing this up, you ask?
Well, that's because StudyOnline.ie will be taking Payments from Apple Pay!
And we hope to be taking Android Pay not too long after.
Soon, you'll be able to pay for any of our courses using your phone. So, if you're browsing StudyOnline.ie and want to sign up for a course, it's now even easier! You can get started with your studies almost instantly. Isn't that great?
Have you used Apple Pay or Android Pay before? How easy are they to use? Let us know!